Born
– June 18, 1897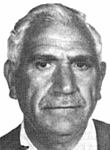 Birth Location
– Vallelunga, Sicily
Birth Name
– Cassandro Bonasera
Died
– September 9, 1972
Introduction
– Cassandra Bonasera was born on June 18, 1897 in Vallelunga, Sicily. He was son of Lucia Spoto and Vincenzo Bonasera.
Early Life
Vincenzo was a tailor and sailed to United States in 1901 settling on Elizabeth Street in New York City. In 1906 Cassandro Bonasera crossed the Atlantic with his mother and his four siblings. They joined Vincenzo in Elizabeth Street. On Oct 24, 1906 Lucida Bonasera died of complications of childbirth less than 11 months after arriving in the United States. Cassandrao lived with his family in Manhattan and registered as Anthony Bonasera in Public School 19. He left the school after completion of his sixth grade in 1911 and in 1915; he relocated with his family to Brooklyn. Anthony Bonasera's first arrest was for robbery in 1916. His second arrest, in 1920, resulted in a conviction for petit larceny and received a suspended sentence. By 1920, Anthony joined John "Johnny Bath Beach" Oddo overseeing gambling rackets for mafia leader Frankie Yale. Anthony and John Oddo became underlings of Mafia boss Joseph Profaci following the murder of Frankie Yale. He was questioned by police in connection with several Brooklyn homicides including Yale's. Over the next 50 years Anthony Bonasera acquired a substantial Rap Sheet Cassandra Bonasera was married to Joseph DiCarlo, Sister Sarah on June 28, 1933. In December 1930, He was seriously wounded outside his Brooklyn Home. He was hit by six bullets in the head, neck and arm. He honored the code, claiming he was unable to identify his assailants.
End of His life
Anthony Bonasera attempted to acquire U.S. citizenship but his petition for naturalization was refused in 1968. An investigation disclosed his criminal career and close relationship with several known mobsters
Bonasera died of natural causes on Sept. 9, 1972.