Birth
– 26 January, 1891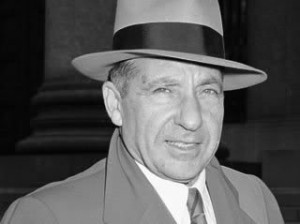 Birth Location
– Cosenza, Italy
Birth Name
– Francesco Castiglia
Died
– 18 February, 1973
Introduction
Frank Costello was born in Italy on 26 January, 1891. He started his life as a slum kid, but grew up to lead the Luciano Crime Family. The Luciano Crime Family was the most powerful crime family in New York from mid-1930s until 1957. Frank Costello was known as "The Prime Minister" of the American Mafia.
Beginning of his criminal life
When Frank was 4 years old, he moved with his parents to New York. The family settled in East Harlem and young Frank started a life of crime. He was soon a member the 104
th
street gang and quickly rose to head the criminal group. At the age of 17, Frank Costello was convicted and sent to prison for assault and robbery in 1908, 1912 and 1917. He went to prison once again in 1918 for carrying a concealed weapon. He claimed he never carried a gun again. He used his brain, made political connections and rose to the top of the underworld. In his youth while working for Morello gang, Costello met Charlie Lucy Luciano and they became friends and partners. In 1916, Costello lawfully changed his name from Frank Castiglia to Frank Costello and started working with Ciro "The Artichoke King" Terranova. Costello escaped poverty by running booze. At the end of prohibition, Costello invested in gambling enterprises and earned millions from slot machines and casinos. In November, 1926, Costello was indicted on federal bootlegging charges. In January, 1927, the jury was deadlocked on the bootlegging charges for Costello. In 1929, Costello, Luciano, Torrio, Lansky, and Atlantic City/South Jersey crime boss, Enoch "Nucky" Johnson hosted a crime convention in Atlantic City, New Jersey. By 1928, Costello and Luciano were young, powerful, and ambitious gangsters. The internal conflict in the Italian underworld would sidetrack Costello and associates while the Castellammarese war raged between the Masseria and Maranzano factions for almost two years. In 1931, both Masseria and Maranzano were killed and Lucy Luciano became the leader of Luciano Crime Family. In 1936, when Lucky Luciano went to prison for pandering, he named Frank Costello de facto boss the family. With the help of his top capos, Anthony Strollo, Joe Adonis, Anthony Carfano and Michael Coppola, the Luciano Crime Family ran smoothly. Under Costello's command the family made huge profits and enjoyed political influence.
End of his life
Frank Costello survived an attempted hit by than Genovese solider Vincent Giginte who rose to become boss in 1981. In 1957, Costello retired. Capo Vito Genovese, who had ordered the hit on Costello, became the Luciano crime family's new boss and changed the family's name to the Genovese crime family. Frank Costello served as a Mafia elder statesman until his death, on February 18, 1973, at the age of 82, from a heart attack, in NYC.