Birth
– 25 February, 1917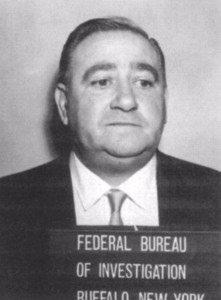 Birth Location
– Brooklyn, New York
Died
– 16 August, 1976
Introduction
Peter Magaddino was born on 25 February, 1917. He was the son of Buffalo boss Stefano Magaddino and was related to several mafia figures. He was married to a niece of Buffalo underboss and businessman John Montana. Peter Magaddino was a caporegime in the family and acting underboss from 1967 to 1968.
Beginning of His Criminal Life
The Magaddino family immigrated to the U.S. from Castellammare del Golfo, Sicily and settled in New York. In 1921, the family suddenly moved to Niagara Falls, New York. In 1940, Peter opened a funeral home with Paul Palmeri and when Palmeri left Niagara Falls in 1942 Peter took over the operation. He already had a college degree and now went to mortuary school and became a certified funeral director. He ran the Magaddino Memorial Chapel, in Niagara Falls, New York. During the Bonanno conflict (known as "The Banana War") of 1964-68, Peter Magaddino was assumed to have been partnered with his uncle Antonio Nino Magaddino in the kidnapping of Joseph Bonanno. In 1967, Buffalo underboss Frederico Randaccio was arrested and sent to prison. It is believed that Peter was appointed by his father Stefano Magaddino to fill the gap and run the day-to-day activities. Peter was named acting underboss. In 1968, the capo and future acting boss Joseph Fino got the permanent job. Late in 1968, the family members of the Buffalo crime family viewed Stefano as a greedy leader who could no longer be trusted to lead the family. $500,000 in cash was discovered by the FBI hidden in Peter's bedroom wall, escalating the resentment for Stefano and Peter Magaddino. The Buffalo family split, and the Magaddinos were stripped of dominant power.
End of His Life
Peter was the reliable member of his father's faction until Stefano died on 19 July, 1974. Peter removed himself from the criminal activities and he died on August 16, 1976.